Afghanistan: U.S. Special Forces Guilty of War Crimes?
Last spring, the remains of 10 missing Afghan villagers were dug up outside a U.S. Special Forces base – was it a war crime or just another episode in a very dirty war?
In the fall of 2012, a team of American Special Forces arrived in Nerkh, a district of Wardak province, Afghanistan, which lies just west of Kabul and straddles a vital highway. The members installed themselves in the spacious quarters of Combat Outpost Nerkh, which overlooked the farming valley and had been vacated by more than 100 soldiers belonging to the regular infantry. They were U.S. Army Green Berets, trained to wage unconventional warfare, and their arrival was typical of what was happening all over Afghanistan; the big Army units, installed during the surge, were leaving, and in their place came small groups of quiet, bearded Americans, the elite operators who would stay behind to hunt the enemy and stiffen the resolve of government forces long after America's 13-year war in Afghanistan officially comes to an end.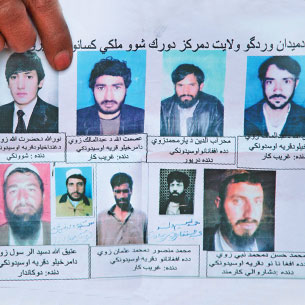 But six months after its arrival, the team would be forced out of Nerkh by the Afghan government, amid allegations of torture and murder against the local populace. If true, these accusations would amount to some of the gravest war crimes perpetrated by American forces since 2001. By February 2013, the locals claimed 10 civilians had been taken by U.S. Special Forces and had subsequently disappeared, while another eight had been killed by the team during their operations.
"They're venomously anti-American there," one U.S. official says. "It's always been that way. Sometimes our adversaries are the men and women of a community."
Officials at the American-led International Security Assistance Force, or ISAF, categorically denied these allegations, which came at an extremely delicate moment – as Afghan President Hamid Karzai and the American government were locked in still-unresolved negotiations over the future of American forces in Afghanistan. The sticking point has been the U.S.'s demand for continued legal immunity for its troops, which Karzai is reluctant to grant. Privately, some American officials have begun to grumble about a "zero option" – where, as in Iraq, the U.S. would rather withdraw all its forces than subject them to local law – but both sides understand that such an action could be suicidal for the beleaguered Afghan government and devastating for American power in the region. Yet a story like the one brewing in Nerkh has the potential to sabotage negotiations.
Watch highly disturbing footage of detainee abuses in Afghanistan
Last winter, tensions peaked and President Karzai ordered an investigation into the allegations. Then on February 16th, a student named Nasratullah was found under a bridge with his throat slit, two days, his family claimed, after he had been picked up by the Green Berets. Mass demonstrations erupted in Wardak, and Karzai demanded that the American Special Forces team leave, and by April, it did. That's when the locals started finding bodies buried outside the American base in Nerkh, bodies they said belonged to the 10 missing men. In July, the Afghan government announced that it had arrested Zikria Kandahari, a translator who had been working for the American team, in connection with the murders, and that in turn Kandahari had fingered members of the Special Forces for the crimes. But the American military stuck to its denials. "After thorough investigation, there was no credible evidence to substantiate misconduct by ISAF or U.S. forces," Col. Jane Crichton told The Wall Street Journal in July.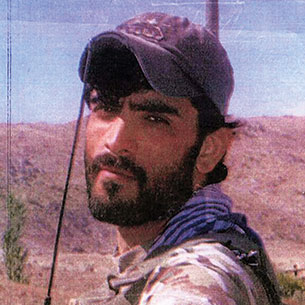 But over the past five months, Rolling Stone has interviewed more than two dozen eyewitnesses and victims' families who've provided consistent and detailed allegations of the involvement of American forces in the disappearance of the 10 men, and has talked to Afghan and Western officials who were familiar with confidential Afghan-government, U.N. and Red Cross investigations that found the allegations credible. In July, a U.N. report on civilian casualties in Afghanistan warned: "The reported disappearances, arbitrary killings and torture – if proven to have been committed under the auspices of a party to the armed conflict – may amount to war crimes."
Last year, on the morning of November 10th, a slight, meek-faced, 38-year-old farmer – let's call him Omar – with a fan-shaped beard and heavily callused hands, was standing with his neighbor, a 28-year-old shopkeeper and father of three named Gul Rahim, when they heard a bomb blast followed by gunfire. The two had been trying to dig out a tree stump in front of Omar's house, which looked out onto the village of Polad Khan, adjacent to the main road between the provincial capital of Maidan Shahr and Nerkh's district center.
Nerkh, despite its orchards of apple trees and clean Himalayan air, is not an easy place to live. Like much of Afghanistan's rural population, the residents of the district, impoverished tenant farmers, are trapped between the inexorable pressures of the insurgency and the American military. The militants, who have deep roots among the local population, will kill anyone who cooperates with the foreigners. Even being seen talking to the Americans is a risk. When the Taliban come to their houses at night, demanding food and shelter or the services of their sons, refusal can mean death. And yet the presence of those militants might draw a drone strike or a raid from the Americans. It is an impossible but daily dilemma. A slip can be fatal.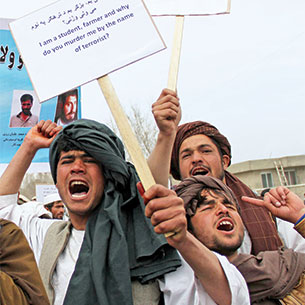 That November day, a roadside bomb had hit the American Special Forces team as it patrolled nearby, lightly injuring an American soldier and a translator. Soon afterward, a convoy of Americans mounted on ATVs, followed by Afghan soldiers, came rumbling down the road. Fearful, Omar and Gul Rahim put down their tools and went inside. As they sat in the back room, surrounded by Omar's young children, a burly, bearded American burst through the front door, accompanied by two Afghan translators who started searching the rooms. They found the two men and yelled at them to get up; when Omar protested, one of the translators, Hamza, started kicking him, and his blows sent Omar crashing through his window into the garden.
RS War Stories: The Girl Who Tried to Save the World
As Omar lay stunned on the ground, his wife and kids rushed over, hysterical, and clutched at him to protect him, but Hamza fired several shots over their heads, killing a cow and scattering the woman and children. He then dragged Omar into a small, walled apple orchard, where the other translator – a tall, sunken-eyed man who had taken the nom de guerre Zikria Kandahari, after his southern birthplace – was beating Gul Rahim in front of several Americans. In the neighbor's orchard, Americans had found the trigger wire for the bomb that had exploded earlier in the day. As the two pleaded their innocence, one of the Americans came over and shoved Omar up against the wall, punching him. Omar says he watched as Kandahari marched Gul Rahim about a dozen yards away, and as the Americans looked on, the translator raised his pistol to the back of Gul Rahim's head and fired three shots. When Kandahari turned and strode toward Omar, pointing his pistol at him, Omar fainted. When he came to minutes later, he was being dragged into a Humvee.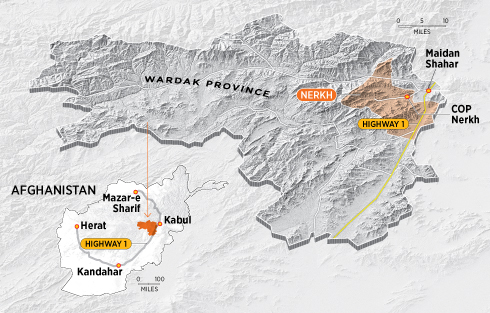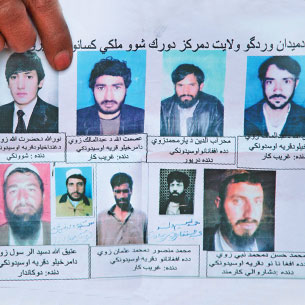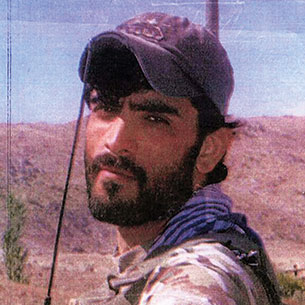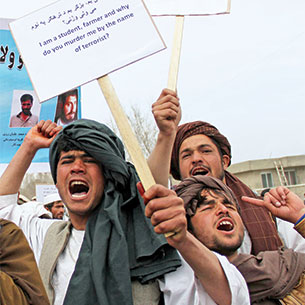 Omar was the only civilian eyewitness to Gul Rahim's killing, but in Wardak I spoke to three of his neighbors who said they had seen the American Special Forces arrive on their ATVs at Omar's house, had heard gunshots and, after the soldiers had left, had seen Gul Rahim's bullet-riddled body lying among the apple trees, his skull shattered. The Americans later returned and demolished the orchard's walls with explosives; when Kandahari saw the 12-year-old son of the orchard's gardener, he taunted the boy: "Did you pick up his brains?"
Fearing that Omar too had been killed, his family searched for his body to no avail. But Omar's ordeal was just beginning. He trembles as he recalls to me what happened next. He was taken to the U.S. base in Nerkh and put in a plywood cell, where he was left until the next morning. Then the interrogations began. He says his hands were bound above his head and he was suspended and then beaten by Kandahari and the bearded American. There were two Americans and their translators interrogating him, and they asked him about Gul Rahim, and about well-known insurgent commanders in the area; Omar professed to know nothing. He says the beatings intensified, and he fainted several times – they twisted his testicles, he admits shamefacedly. The interrogation sessions continued for two days. Bound to a chair and beaten, Omar was certain he would die. At night, shackled in his plywood cell, he would recite verses from the Koran and think of his children. At one point, Kandahari held a pistol to Omar's head and told him that he would kill him as easily as he had killed his friend.
"Of course they knew what was happening," the accused translator, Kandahari, says. "Everyone knows what's going on inside the team."
Meanwhile, once Omar's fellow villagers realized that the Americans had arrested him, they sent a delegation of elders to the police chief and the provincial governor to plead for Omar's release. Both said they were powerless, but by chance an American military officer was visiting the police headquarters. The elders told the officer how Gul Rahim had been executed and Omar detained. They said the American seemed surprised but skeptical and told them that he would look into the matter. (A spokeswoman for ISAF says that allegations of wrongdoing were first raised to U.S. military officials in November 2012 and reported up the chain of command.)
That same evening, the Americans handed Omar over to the Afghan army soldiers who had a camp next door. Omar suddenly realized he was being set free. "I promised that I would kill you," he says Kandahari told him, "and I don't know how you're getting away alive."
'There is no security in Maidan Shahr," mutters Mohammad Hazrat Janan, the deputy head of Wardak's provincial council, as he gazes through the shattered windowpanes of his office. A short, brusque politician who has grown wealthy during the Karzai regime, Janan is dismayed at the way the province seemed to be spiraling out of control. Wardak is a crucial battleground in the war, a strategic area that both the U.S.-backed government and the insurgency have been committed to winning. An hour earlier, a massive car bomb had hit the Afghan intelligence compound nearby, knocking me and my translator to the floor while we were interviewing Omar and showering us with broken glass. "You see those hills about one kilometer away?" Janan says, pointing up the valley in the direction of Nerkh. "We can't even go to those villages."
Maidan Shahr is only 30 minutes west of Kabul, but it seems to inhabit an alternate universe from the capital, where traffic-clogged streets are lined with fast-food stands and shops selling counterfeit designer goods. Suicide bombings, like the one that had just blown out the windows, are common here in Wardak, as are Taliban ambushes on the main highway, which passes through the province on the way to the south of the country and is littered with bomb craters and burned-out tanker trucks.